Car Crash Stories from our Galveston Clients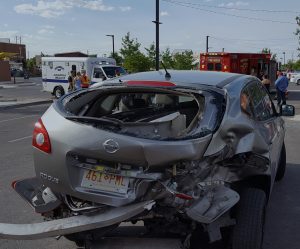 Tylka Law attorneys live and work in Galveston Island and League City, Texas.  Recently we've seen a rash of car accident cases both locally and up and down the coast.  This post goes over our clients' experience and the dangers you need to keep an eye on.
Shipping Deadlines cause Semi-Truck & 18-Wheeler Driver Fatigue
The 45 Highway is a central corridor between Houston and the Port of Galveston.  Any shipping container on its way to Houston or leaving Galveston must go through the 45 Highway.  This means that hundreds of semi-trucks will drive between Houston and Galveston.  What is troubling is that many 18-wheeler drivers are on a very tight deadline, and often do not sleep.  One client was stopped in traffic on the interstate when an 18-wheeler hauling two trailers hit her from behind.  Based on the evidence, we suspect driver fatigue.  If you are driving near a commercial truck in the late evening or early morning, please keep an eye out.  Calling 9-1-1 to report poor driving can save many lives.
Monsoons Impair Driver Visibility
The weather in League City and Galveston is normally calm, but in the summer months it can change quickly.    A monsoon can drastically impair driver visibility, and this is especially dangerous for out-of-State tourists that do not know their way around.  One client driving down Seawall Blvd. was hit by an out-of-State driver just after a heavy rain began.  The client's car was badly damaged, but luckily the client came out of the accident without severe injuries.  If you get caught in a heavy rain, pulling to the side of the road is always a safe option.
Summer in Galveston means more Drunk Drivers
According to the CDC, an average of 28 people die every day due to alcohol-impaired driving.  These deaths climb in the summer months when the nights get longer and people stay out later.  One drunk driver hit a client driving up 61st Street at about 2:15AM.  We suspect that the drunk driver left a house party moments before getting into the accident, as his BAC measured .12!  If you see a car swerving, call 9-1-1 right away.  You may save a life.
Galveston Car Accident Attorneys
If you need a Galveston car accident lawyer, contact Tylka Law Firm today.  Tylka Law attorneys will protect you during a tough time, and get you money and claims for auto damages and medical problems.  We helped many car and truck accident victims get several million dollars in claims.  If you need assistance, give us a call at (281) 557-1500 anytime day or night.